Welcome to the site of Třebušín-Zababeč Farm
The family farm is located in the beautiful countryside of the protected landscape area Czech Central Mountains, near Litomerice and approximately 70 km from Prague. It is situated in a remote area in the hills above the village Třebušín, overlooking the hill Kalich, which stood in the Middle Ages Hussite castle. Intersects farm equestrian trail that will lead in the future from Germany to the Bohemian Forest and our farm is listed as one of the stations on this route. The beautiful surrounding nature and tranquility, with the possibility of hiking, riding and cycling, will allow you to spend a holiday, a weekend or just a day trip.Czech Central, which is due to its unique volcanic origin in Central Europe, with its varied flora and fauna of the richest in the Czech Republic.
Farm we have built with the intention to provide our guests stay in the beautiful countryside of the protected landscape area Czech Central Mountains, surrounded by forests, meadows and paddocks for horses. Ideal for recreation for families with children.
Especially children, but not only them, appreciate daily contact with animals on the farm. The opportunity to see how treated, how they are treated and how they behave.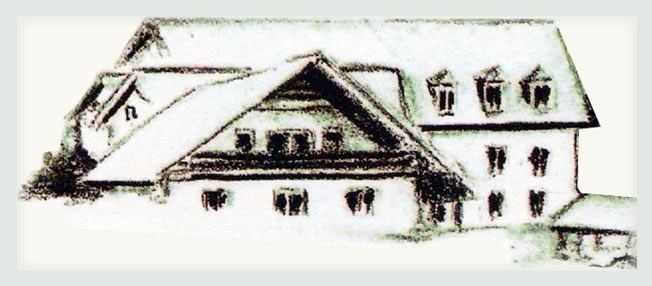 They can learn about horses, but also sheep, goat, pig, rabbit and, of course, will find dogs and cats.
If you go on a walk or take the opportunity to horseback riding, surely catch a glimpse of wildlife, which is very rich surrounding countryside.
It may seem that recreation on the farm is a seasonal affair but the opposite is true. Accommodation and operation of the farm year-round. Each season has relative to its surrounding countryside charm and horseback riding are just as beautiful in the spring, summer, winter or ingests. see. photo gallery. For those who do not feel like horseback riding, there is a possibility of trips on bikes, which you can borrow with equipment or just come to relax. In winter it is not far from the farm (about 10 km) downhill tow, where you can dine on good snow conditions skiing.